Setting up a Business Email Address
One thing that comes up over and over again with both new and existing customers is email, especially professional email or setting up corporate email addresses.
It's quite a big problem actually.
But it doesn't have to be.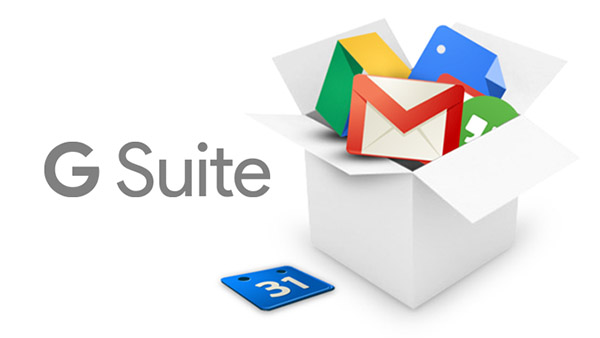 Having a corporate email address or business email account is critical to your brand and yes while free email addresses from all the main vendors serve a purpose you have more control and a professional look with a branded corporate address.
In this post we are going to show you how to take advantage of Google for professional email addresses as it's the easiest and most cost-effective platform out there – plus it integrates directly into your desktop apps for management.
What is a Professional Email Address?
Put simply a professional email address is an address containing your company name.
My email address, for example, is gary@yourweb.ie and because our company is called yourweb this is considered a professional email address.
I have other email addresses using platforms like Gmail that I use for more personal stuff and these are not considered professional because they do not reflect my company brand name in their makeup.
In order to get a professional email address you are going to need a domain name to start with and most likely a website. If you are looking for this service we can help you there too. Just head over to this link to find out more.
What do you need?
Choose a domain name.
You are going to need a domain name to start with for business email registration. This can be registered with any of the multitudes of domain registrars.
A question we get asked all the time is can I use my domain name as my company name. Chances are you will already have a company name if you are running a limited company so the answer is no, but if you operate as a sole trader then yes you can use the domain name as a company name.
Why use Google Apps for Professional Branded Email Address?
We get asked all the time why should we move our email over to Google Apps when we can get free email hosting with our domain name and website when we set it up.
Yes, you do indeed get a free business email address with all new websites but there are a few issues. All customers want to come across as professional businesses and a free business email account is always top of their list of requests.
The biggest issue we come across is mailbox sizes. Users tend to hoard all emails and never want to delete anything. Most shared hosting email accounts are limited by the hosting company so once you run out of space your mail stops coming in.
If we polled all of our customers they would all come back and tell us that email is the most important communications tool they have in their business so why not protect it and put it on a platform you can rely on?
Some of the main features of using Google Mail for your Business are:
Security and Spam filtering. Google has world-class security and their spam filters cleanse millions of rubbish emails every day.
Reliability is awesome. Take advantage of Google's own world-leading infrastructure to host your corporate email. Never wonder if your email actually got delivered again.
Email works with your standard desktop applications like Outlook so everything looks the same.
Offline access is also crucial and with GSuite email, you can access your emails even when you are offline
Storage size is 30GB. Most hosting plans that come with your website are limited to 2 GB.
Access from any device. Have your email running on your desktop, laptop, smartphone or anywhere that supports a browser.
Google Professional Email Cost?
So how much does it cost to get up and running with a professional email account?
Not much to be honest…
The Basic email address cost including 30GB of storage and access to the G Suite of office products is only €4 per month per mailbox. The storage alone would cost you more than that on other platforms. This package is perfect for sole traders or small business setups where you don't have a need for a corporate email server.
The Business email package costs €8 per mailbox per month but includes unlimited storage and access to the enhanced GSuite of products. It also gives you the ability to archive off old files etc. This package is suitable for sole traders if you want more functionality in the office suite right up to corporate customers. Think of it as out sourcing your email to the cloud but in a safe and secure environment.
Setting up a Professional Email Address with Google Apps and Gmail
Now that you understand the benefits of using Google G Suite for business email lets look at how easy it is to set it all up. Let's break it down into easy to follow steps to get you up and running in no time.
Sign up for a Google Apps account here.
This gives you access to the Dashboard where you can start setting up your email accounts. Professional email addresses cost from €4 per month and that's it. You get all the benefits of corporate email directly from Google and use your own company name in the address.
Choose the most suitable open and click the 'Get Started' button to proceed.
Next thing to do is to enter your Company name and select the number of employees in your business.
You can change the numbers later so don't worry about being too accurate at this stage.
Click the 'Next' button to proceed.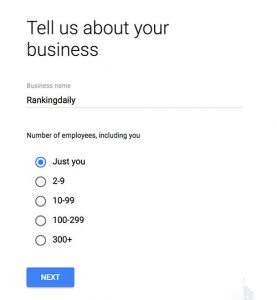 Next, you are presented with a Business location option. Select your country and click 'Next' to proceed.
Insert an email address that you can use for initial administrative purposes. This is just to get you started and you can change this to your corporate email address at a later stage once it's all set up properly. Click 'Next'
The next question you see is about your domain name. If you have an existing domain name then just click on the 'Yes, I have one I can use' button to continue.
Enter your existing domain name and click 'Next' to continue.
You are then prompted to enter the name for the Administrative account. This can be changed at a later date when everything is up and running fully. You simply re-assign to the required user in the dashboard.
The next step is to enter your email address that you will use to sign into the Admin dashboard. This is where you actually set up your new corporate email addresses.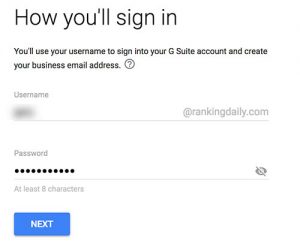 Click 'OK' or 'NO THANKS' on the next screen to continue.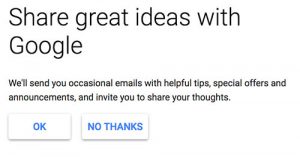 Click the checkbox on the reCAPTCHA to agree that you are not a robot and hit the 'Agree and create account' button to continue. Once this completes you can click on the 'Go to setup' button to continue.
The next screen you are presented is where you start adding people to your G Suite account. Click the 'Start' button to proceed.
Add in the required accounts and tick the box at the bottom of the screen.
At this point, you need to verify to Google that you have access to the domain name you entered in the previous sections so there is some quick work required on the website hosting site to make this happen. The screen below presents you with a few options: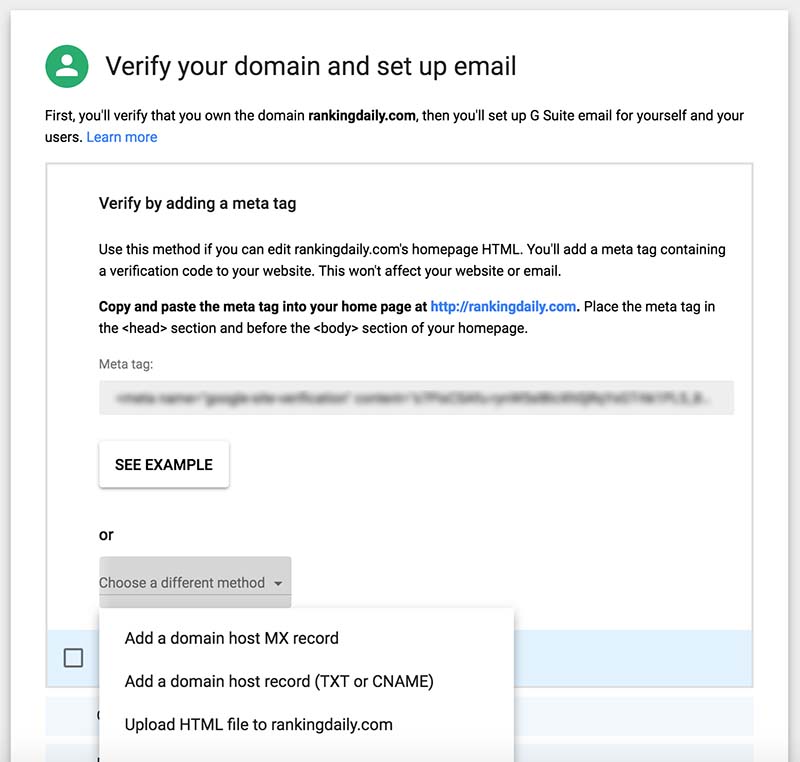 You have a few things to do here. The first thing to do is to log into your website domain control panel.
Open DNS and delete the existing MX records and enter in the new G Suite MX records.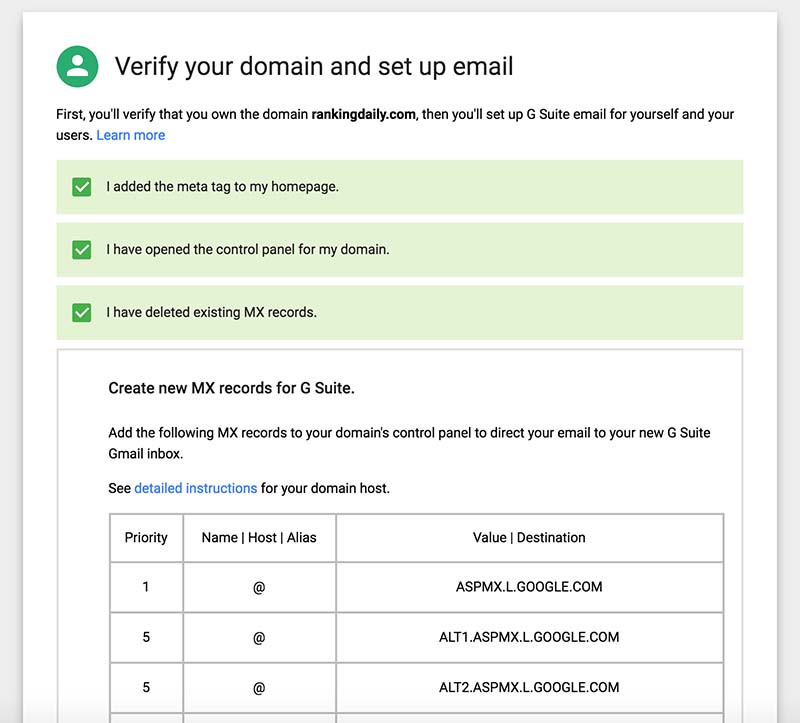 Once you have completed all the steps outlined above you are presented with the confirmation screen: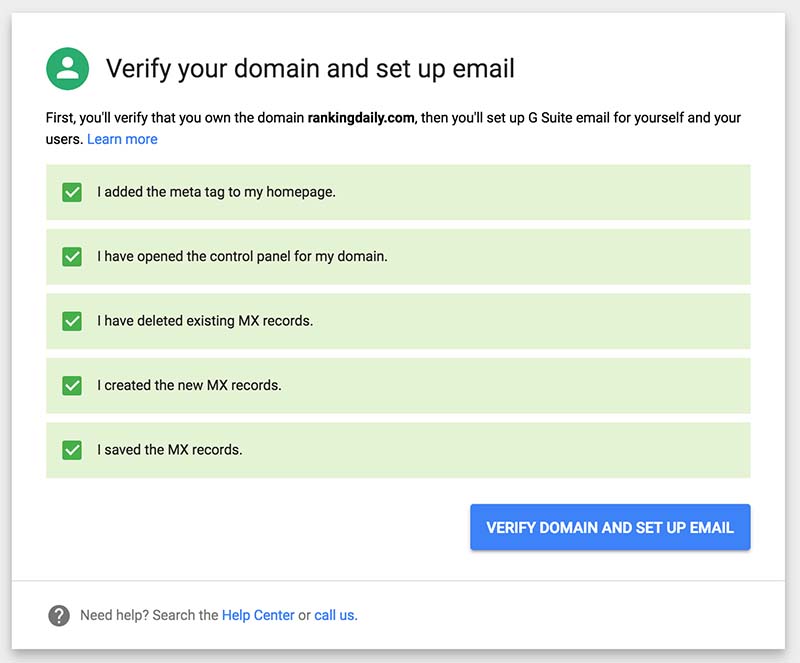 Click the 'Verify domain and set up email' to continue button. Once this check is complete you will be presented with the following screen:
Click on 'Next' to continue.
Once you follow through this process exactly as outlined by Google everything should work straight away. If you come unstuck anywhere give us a call and we can help out.
You are now able to log into the G Suite Admin console and start working away.
Accessing your new corporate Gmail account
This is very straightforward. You just open a web browser and log into Gmail with your corporate email address.
You are now active on Gmail with your professional email address.
The next thing to do is to configure your Signature and change your profile image. This gives everything a more professional look. Plus with a proper signature, you can embed the URL of your business website, a clickable phone number and add in some Social Media accounts.