Google is one of the world's most popular bases for searching the web; there are nearly 4 billion people that actively use Google to search and find a web page or business.
As the internet and Google have become revolutionary, businesses have switched their marketing tactics from offline to online, with digital marketing becoming an extremely important aspect of any business in the present day.
A huge part of digital marketing includes the sole dedication to Google and making a brand's website search engine optimised (SEO) as an aim to appear on the first page of Google and other popular search engines such as Bing.
In 2014, Google released its free tool, Google My Business, to help companies develop their presence on Google and give brands all over the world the ability to show up at the top of their page for certain searches.
If you haven't already set up your Google My Business listing then we are here to help! Here is our guide to Google My Business and how to begin building your profile.
What is Google My Business (GMB)?
Google My Business is a completely free tool that allows businesses to set up a listing that can include their business details such as opening hours, location, photos and updates, reviews and a phone number.
The main point of GMB is to help a business show up to their most relevant customers on Google, either from someone searching the business name or the business's location.
GMB was introduced to make life easier for search users; searchers can now find a business's details all in one place at the top of Google's search page so they don't have to spend time searching for vital business information on a website or social media page.
This is only, of course, if the business has set up its Google My Business account! GMB has also helped with the increase in searches related to location; a GMB listing takes a business's physical location (if there is one) and saves it to Google Maps so that the listing will not only show up for people searching relevant enquiries in the same area but allow searchers to easily get directions to the business. 
Why Use Google My Business?
A company should use Google My Business for competitive advantage and to increase their exposure to potential customers. To put it simply, if a competitor has a business profile on Google and you don't, it is likely you'll lose out on a customer because they don't want to waste time searching for information about a business online.
A business listing is great for any company, whether you have a physical location or not because it puts all of your vital information in one place and can be optimised to boost engagement, leads and therefore, conversions.
A GMB listing will not only allow a business to display important information such as opening hours, products or services, and contact details but gives a user the ability to interact with your business in one place by sending you a message or leaving a review.
GMB then allows a business to respond back to customers from one place. GMB does not take long to set up and is well worthwhile to develop your SEO, online presence and boost your chances of gaining new customers.
How Do I Set Up My Business Listing on Google?
Setting up a Google My Business account does not take long! Here are some simple steps to claiming your business listing on Google.
Head to google.com/business and click the button 'Manage now' (you will need to be logged in to your Google account).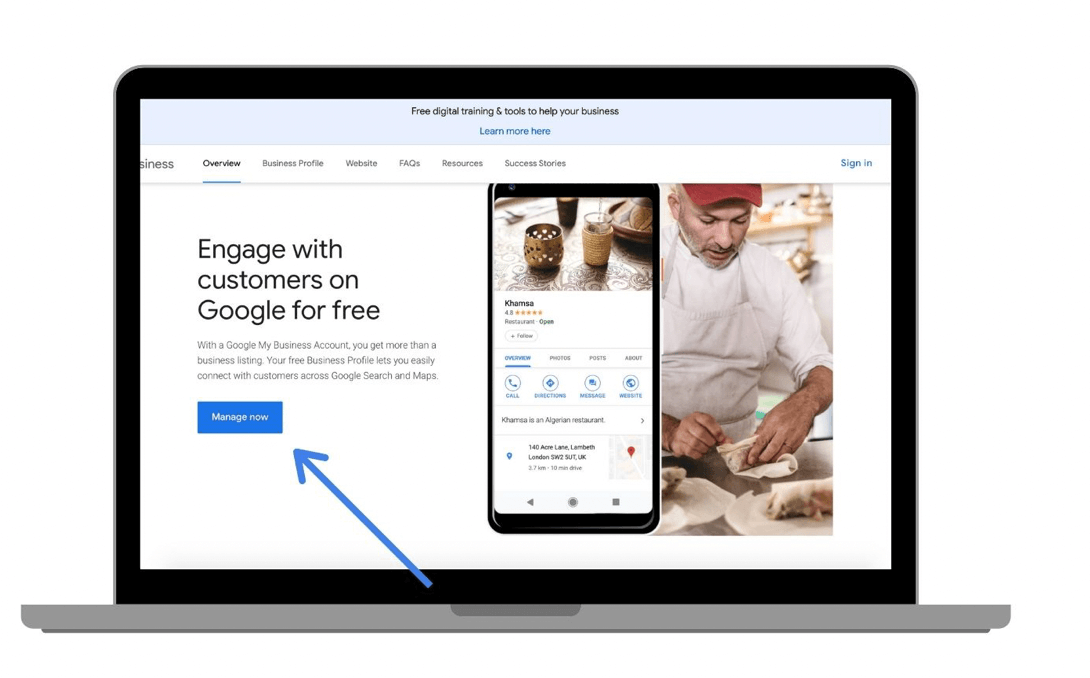 2. Type your business's name where it asks and click to 'Create a business with this name' if your business hasn't previously had a listing on Google. If it has, for example, if your company was previously owned by another and they set up the listing already, then you will find it in the dropdown box so click it there to claim it.
3. For creating a new listing, Google will instruct you to type the name of your business, select a category that fits your business best, choose whether you would like to add a physical location and ask a number of other questions in order to position your business appropriately.
4. In this setup process, you will need to add your business's contact details and website links which are extremely important for optimising your listing.
5. Once you have entered the necessary information for your business, Google will send a verification postcard in the mail to the address you have listed with a code to verify your business account.
How Do I Claim a Business that Already Has a Listing?
To claim a business that already has a listing you will need to 'Request Access' from the person that set up the business profile. If you do not know the person that currently owns the account, or they do not approve access after a certain period of time then you can contact Google who will help you to verify your business.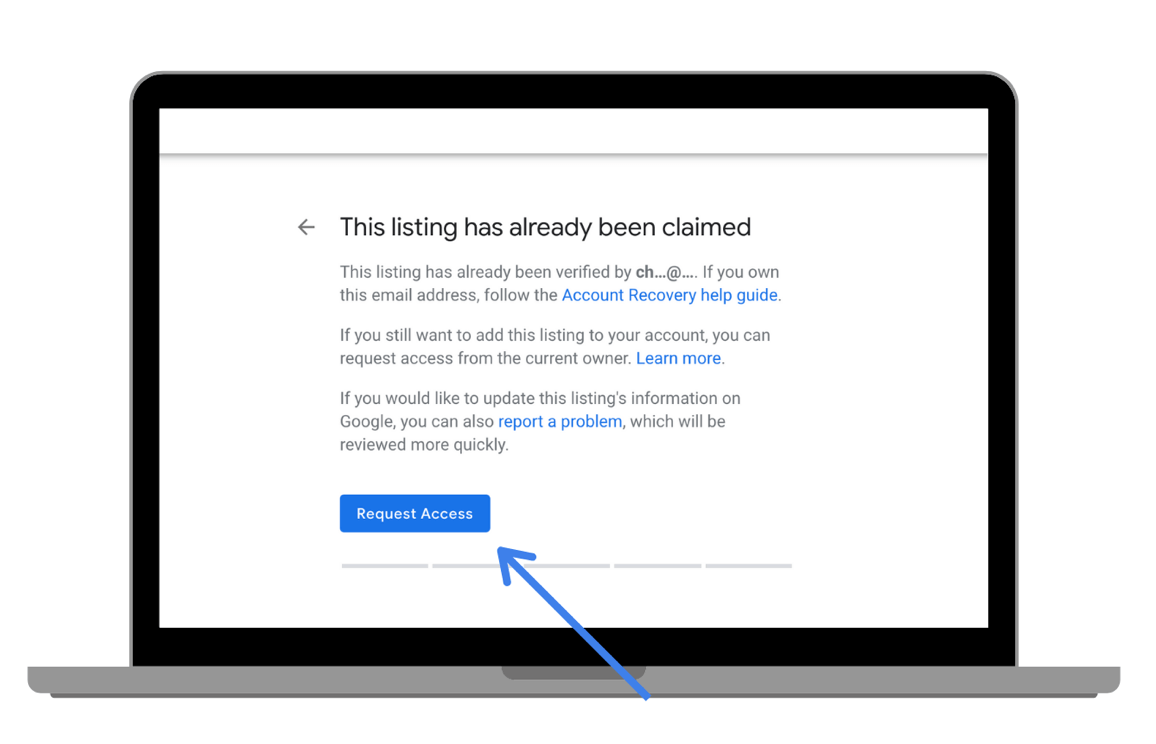 How Do I Add My Business Information?
Once you have received your verification postcard and have been granted access to your Google My Business profile you can begin optimisation!
The My Business Overview offers you a variety of options. You should first go into the 'Info' tab and make sure all of your business information is correct and filled in.
You can then head down to 'Products' or 'Services', depending on your business, to add more about what you provide. We highly recommend setting up a content plan for your listing so that your photos and posts are updated weekly. Additionally, you should encourage your customers to leave you a review on Google; searchers are much more likely to choose a business that has many great reviews over one that barely has any.
Ensure that you reply to each review or message to show that you are active and value your customers. The dashboard for Google My Business is easy to use so you can find everything you need in one place.
Creating and updating your Google My Business profile will be sure to increase your customer base, website visits, engagement and give you an advantage over competitors. GMB provides you with an insights page that will allow you to monitor how many customers searched for your business in a certain time frame, whether they visited your website, requested directions or contacted you, their location, and many other useful reports.
Give Google My Business a try and see for yourself how much more interest your business gets!