eCommerce Websites – Need help to sell online?
Are you adapting your business to move online? Do you have products and services on your existing website that could be sold with eCommerce?
At Yourweb we can take your existing website and implement an eCommerce solution that will make this happen.
New Websites
We can build you a complete end to end Ecommerce solution for your business so you can start trading online.
Website Upgrades
Take your existing website and add in Ecommerce functionality so you can start selling online.
Website Maintenance
Manage and maintain your existing website so you can keep selling online. SEO services to attract new customers.
E-Commerce Website Design Consultation

Did you know there is a grant available of up to €2500 for all SME's to implement Ecommerce on their website?
Leave us a message and we'll get straight back to you.
Trading Online Voucher Projects
View projects completed under the Trading Online Voucher Scheme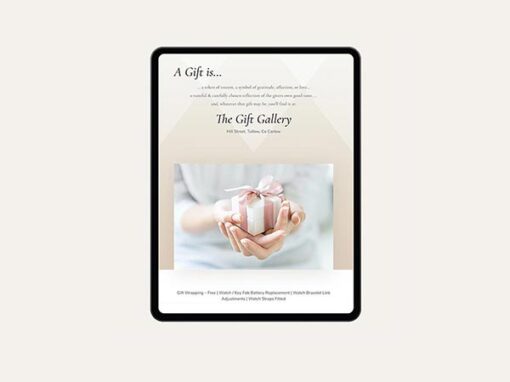 frequently asked questions
Your Title Goes Here
Your content goes here. Edit or remove this text inline or in the module Content settings. You can also style every aspect of this content in the module Design settings and even apply custom CSS to this text in the module Advanced settings.
What is the Trading Online Voucher?
It is a Government funded initiative that will pay up to 50% or a max of €2,500 (ex VAT) of the costs to small business owners when you implement online payments and eCommerce functionality on your website.
You fill in the form and submit to your local Enterprise Office and once you have completed a pre-qualifying training session you are good to go.
Once you pay for the work you submit copies of the paid invoices to the LEO and they send you out a cheque for 50% of the cost.
How easy is that?
What can I use the Trading Online Voucher for?
The voucher is not just limited to online trading capabilities on your site. Below are the main categories when the funding is applicable:
IT consultation
Development or upgrade of an e-commerce website
Implementing Online payments or booking system;
Purchase of Internet related software
Purchase of online advertising (this purchase cannot make up any more than 30% of approved Voucher costs and can only be drawn down in one payment phase)
Developing an app (or multiplatform webpages)
Implementing a digital marketing strategy
Development of a digital marketing strategy
Training/skills development specifically to establish and manage an on-line trading activity
How do you qualify for the Grant?
There are some guidelines available on the LEO websites but to break it down into plain points see below:
No more than 10 employees
Less than €2m in turnover
Trading for at least 12 months
Be located in the region of the local enterprise office to whom they are applying.
Nothing too challenging here, and from our dealings with Local Enterprise Offices around the country the success rate for qualifying companies is very high once they involve a knowledgeable web design company to assist them with their application.
Where can I get the trading online voucher forms?
Visit the Local Enterprise Office Website for more info or Contact Us and we can help you with all the questions you may have.
How long does it take?
It really depends on you. Once the application is submitted you have 3 months to complete the project. From experience, we can typically turn around a project in a couple of weeks.
Content and imagery are crucial to the success of your online venture as without this there is no way for Google to understand what you are promoting or selling.
Our aim with every project is to get your site ranking in the search results because of our strategic approach to content and site structure. This is more of a long term play but there are other options available for an immediate return.
We can use targeted advertising on platforms such as Facebook, Google Ads or even Twitter and LinkedIn if that's where your potential clients hang out. This method is great for jump starting campaigns until the content starts to rank on page one of Google.
When do I get the funding?
Typically once the site is finished and the full invoice is paid we see clients receiving a cheque within a couple of weeks. There are no payment options available for your web developer except a final payment in full.
On receipt of the payment, your web developer needs to submit a copy of the paid invoice and their tax clearance number to the LEO, and that's it.
How can you get started?
The easiest way to get the ball rolling is to talk to one of our web developers or consultants and see if your business is suitable for the grant.
We offer this service free of charge with no obligation to use our team in the actual work. Our team are on standby and will talk you through everything you need to know.
Just give us a call on 059 910 5049 or fill in the contact form above.